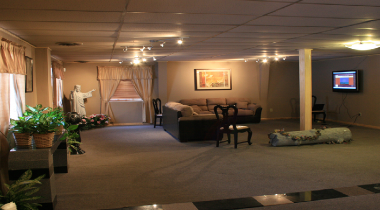 Stone Plans is the areas largest memorial products company. We sell more monuments and memorial products than anyone else in the state. We quarry, design, craft and sculpt granite for more than 700 dealers nationwide.
A monument for a loved one is a tribute that should be as unique as the person themselves. We guarantee to bring you the best that you could get. We hand pick the finest grade of granite from our own quarries and craft them with master craftsmen in our own factories.
When you deal with us, you deal with the quarries direct. In a typical monument buying process, the retailer that you buy from sources his products from a wholesale distributor, who gets it from the factories that, manufacture them. The factory in turn sources their raw materials from quarries like ours. When you buy a memorial from Stone Plans you eliminate at least 3 middlemen and of course their profits.
At Stone Plans, we pride on our integrated, completely owned A to Z supply chain. This offers us the ability to provide superior products and services at affordable prices. We control the processes from quarrying to installation at the cemetery. We don't trust anyone else with the memorials that tell a lasting life story.
We have the nation's largest indoor display of more than 700 unique monuments, mausoleums, markers and much more. We stock more than 4000 monuments, markers and memorial products in stock anytime. Custom made or standard in stock monuments, we can personalize it to the last detail.
We stand by our products, no matter what. Our products come with the most comprehensive iron clad warranty in the industry. We DO NOT use any artificial coloring agent or dyes in our granite. What you get is 100% natural granite product that is meant to last forever.